My mum's house has a rather old (some 8+ years) X10 install, which was showing signs of needing to be replaced. The alarm system was also having a few issues, so we decided to strip it all out and start again !  There are some 79 X10 modules, which consist of dimmers and relays. The alarm has 48 zones and is a Cytech Comfort system.
A decision was made to invest in CBus 2 and Cytech Comfort 2. We would be running LED bulbs on the CBus system, so an investigation process was undertaken to find suitable compatible bulbs with CBus (yes no one could tell us what to buy). I tested about 6 makes, and MegaMan were the ones to go for. Smooth dimming and no flicker. They worked great ! Mum decided that she wanted Daylight temperature led bulbs, some 6500k. The bungalow has always been quite dark inside, so this might be a welcome change.
So, time to rip it all out ! The old wiring mess :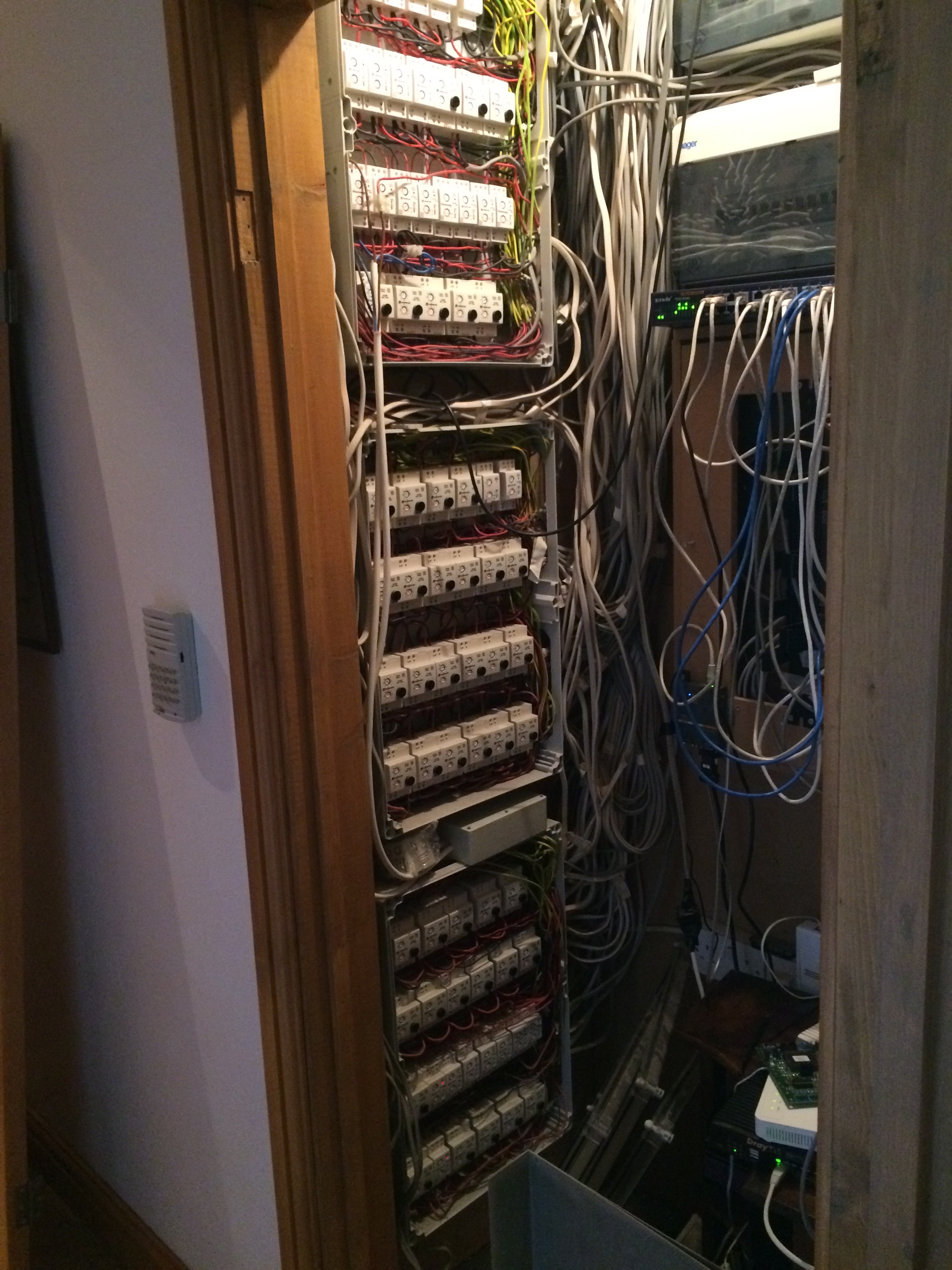 I ripped all this out with the help of my brother (Julian) and labelled up every wire. Roughly 150 twin and earths. Half of them were pulled up through into the attic space as they are not being used in the new system. These redundant wires were from momentary switches to turn the x10 modules on and off, essentially the light switches in each room. The new CBus system works on a low voltage over Cat5 network (star, bus) to communicate with the wall switches in each room and our father who built the bungalow ran Cat5 to each light switch for future proofing.
So, we starting making a mess !!!
So a plan was formed, and the first CBus modules was installed. Each module has 8 x 1amp dimmable lighting channels.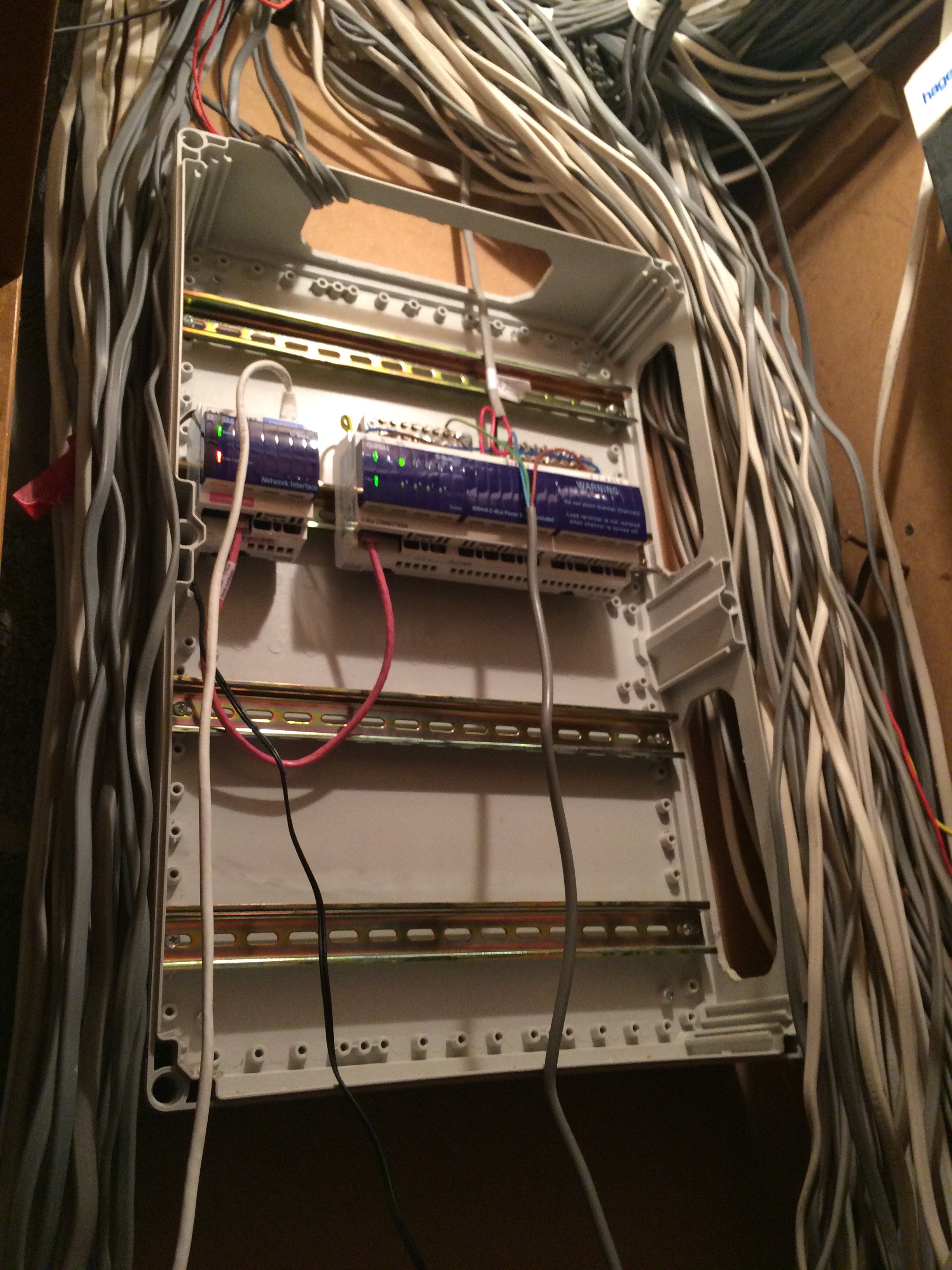 Slow progress was made, routing wires and ensuring all labelling was accurate.  There will eventually be some 32 lighting circuits to different rooms and areas around the bungalow, and 12 x 10 amp relay circuits for items such as pond pumps, cabinet low voltage lighting, bath room fans and other such loads that do not require a variable supply, but one that is off/on.
So after a few days the chaos started to take shape…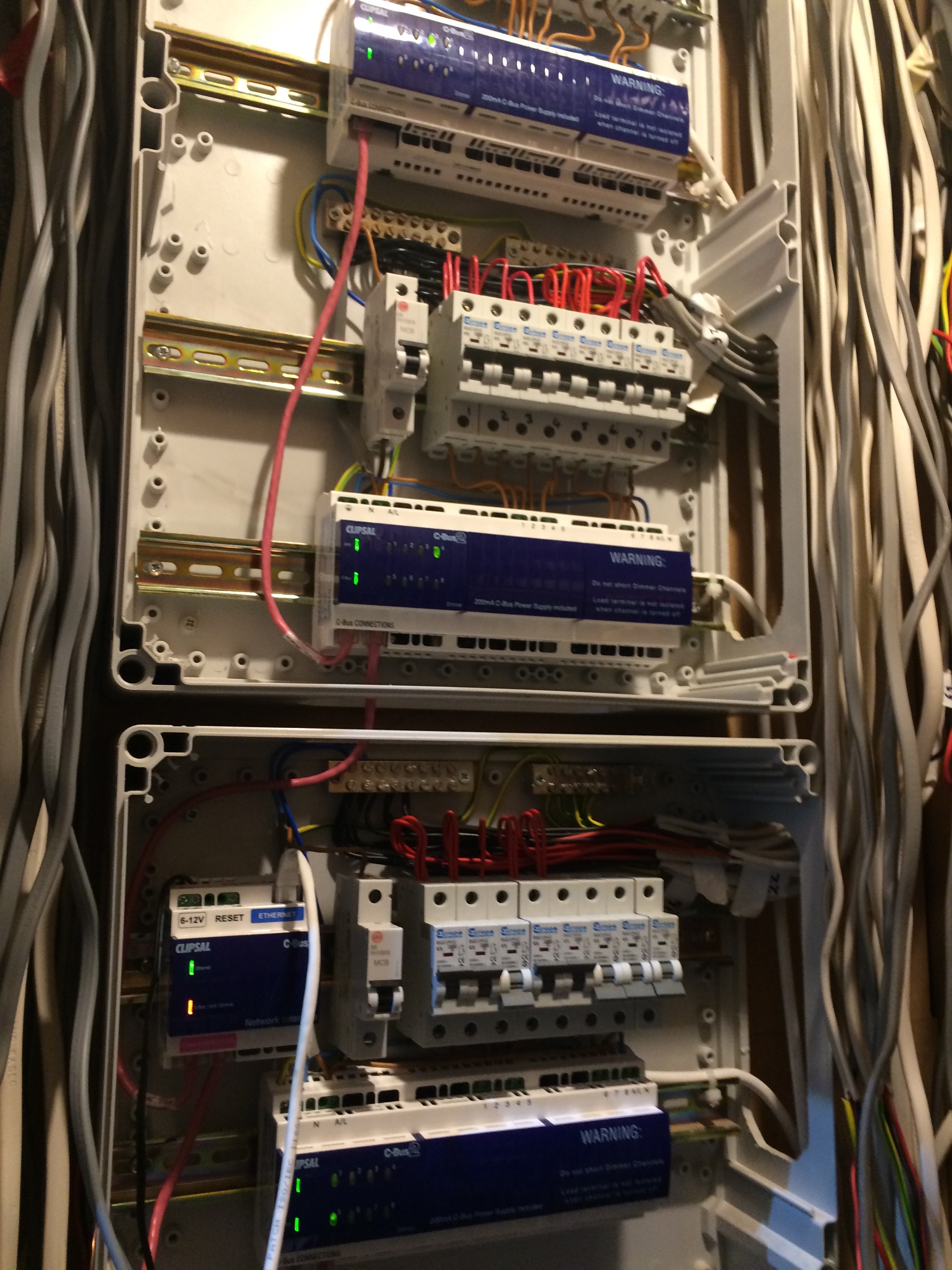 Each dimmer channel goes through a 1 amp MCB, and each relay module has a 6 amp MCB protecting it. At the end of the channels we are running various MEGAMAN led light bulbs.
The next post sometime later this week will see the lighting system completed, and a start on the Alarm system will begin next week.
Cheers !
PS: no blue smoke has been released in the change, and mum loves her new daylight bulbs and touch sensitive switches.