So the Monday night net came around again, seemingly faster each week. I had previously scouted google maps for another 'high spot' location within 10-15mins of Magor (home QTH).  I was rather taken by the area along side the A449, at the SE side of Wentwood.  I headed up to the following spot :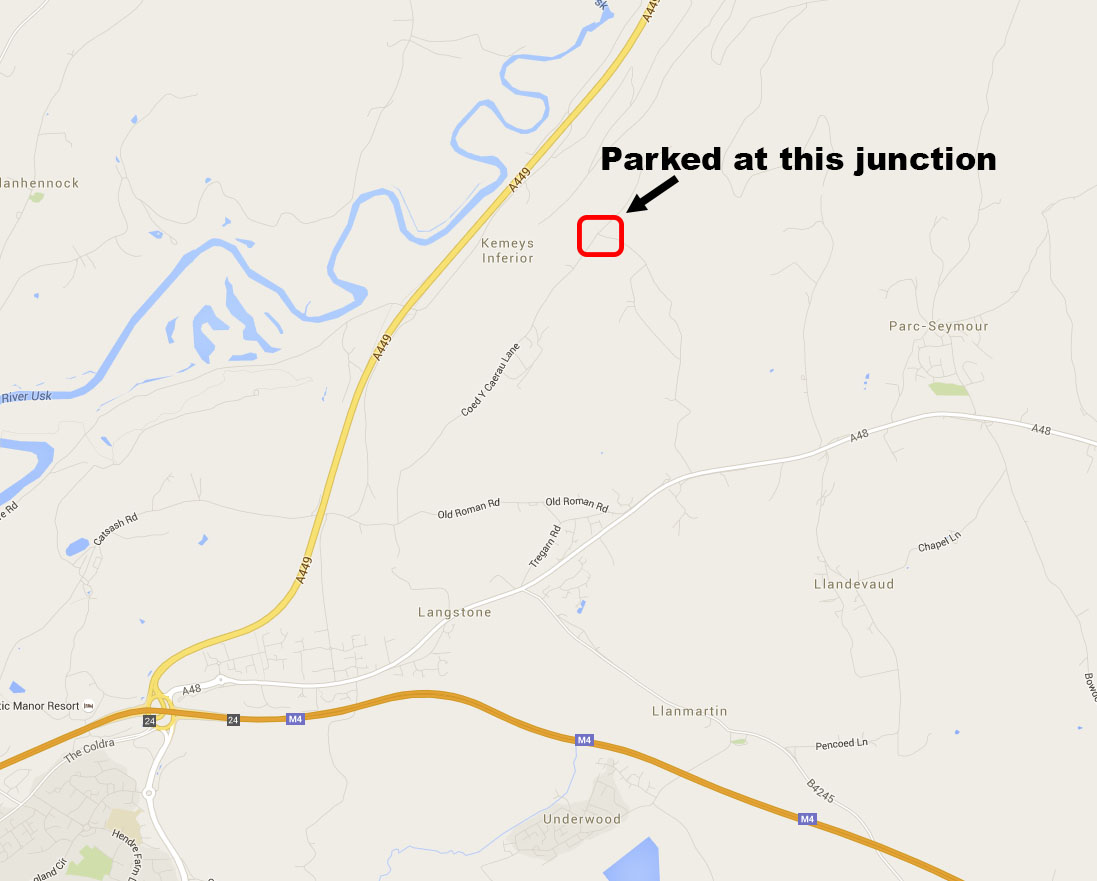 What a fantastic spot it was !!  210m ASL, clear views over to Bristol and the West Country, and a small rise/bank (some 10 ft) and then line of sight over to Cwmbran and beyond in the other direction. GB3RT was hitting me at 59+20, a perfect signal.
I was met by MW6FNV (Dale) who was testing out his new 2m/70cms Kenwood TM-V71 install in his classic beamer. I turned off the Defender, and moved into Dale's beamer and we both worked his radio and antenna. It worked fantastic and the hours flew by.
A few of us gathered on GB3RT around 7:35pm, but later moved to 145.375 for some simplex operation. Stations on air :
Gw1sxt Mike 54
Gw8crh Ian 59
Gw0oaj John 59
2w0ogy chris 57
Mw6mun Jim 59
Mw0rpb Pete (as the net was closing down)
Thanks to SXT for joining us on the net and doing some radio tests, his antenna and setup working great. I think he was running a fixed position 10 ele yagi.
The net ended around 8:30-8:45 but a good natter was had. We were missing FGO that evening, where were you Bill?  Dale and I threw out a few calls on 145.500 and talked to a number of fairly close stations :
G4TBD – Steven, who was coming in on a 53 on 2m but sounding fine. We later switched to his repeater, GB3WB and signals were fantastic.
GW4REX – Phil from Chepstow, also a good signal 58 at least, and M6HCC from Bristol, all working well. We all moved to 5watts and contined our QSO for a good while.  GW8CRH tracked us down and called in for a quick natter, and the evening closed with a chat to Pete (RPB) about all things antennas.
All in all, this was a FIRST CLASS spot, and I am finding it hard not to drive up there again this evening and setup a 2m collinear. Great stuff, great spot, 12mins drive away 🙂
73