So, it was the day of the event, all the equipment checked out. The Yaesu FT1XD handy fully charged, and the 3 ele 2m tape measure beam was in good shape. We all gathered in the carpark off Victoria Street in Cwmbran. My brother Julian joined me and he was the designated driver.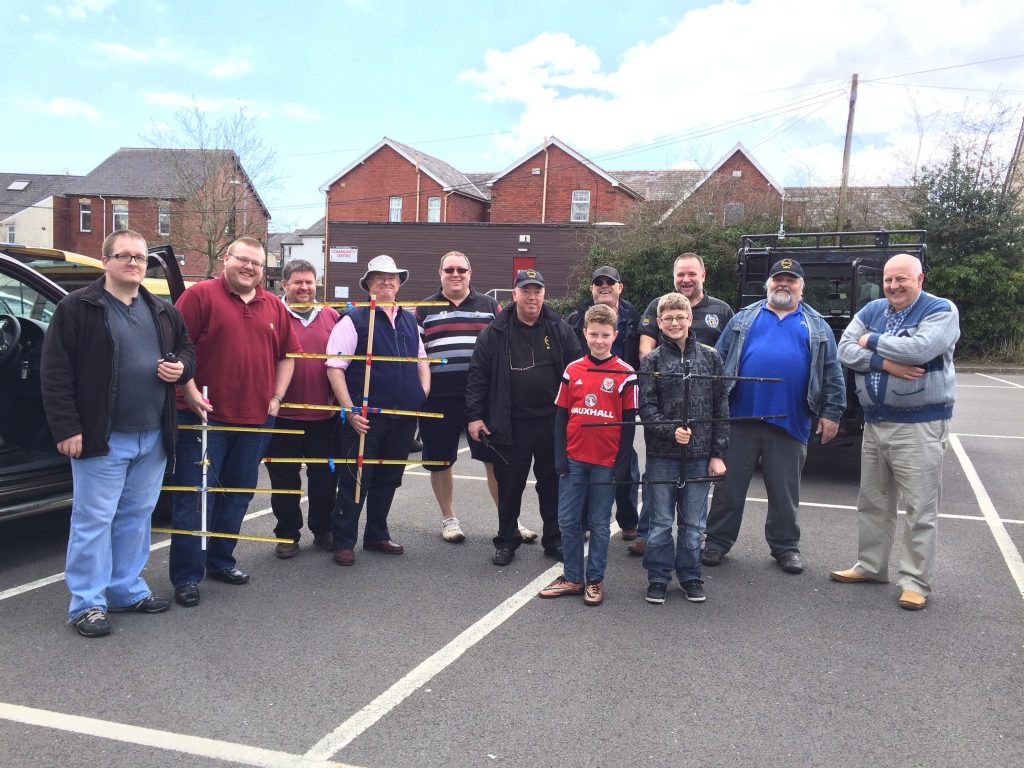 Dave RQM had a great setup on his car, his 2m and 70cm beam attached to the bike rack mount. Next time I think he needs a small rotator on there as well, so he can do it all from the comfort of the driving position 🙂 With his compass around his neck he was definitely on the way to glory, or was he?
Chris OGY and Mark MKG drove off and started sending out the beacon around 13:55. To be honest the signal received in the carpark was fairly wide, in that the beam could be turned a fair bit and the signal still received even with lots off attenuation. Thinking back on it, this should have caused alarm bells to ring, but at this stage I was oblivious.  So I started releasing the teams/cars around 14:00 at 5 min or so intervals. There was one car that had a distinct advantage, more on that later. We were the last to leave.
The following map show all our fixes :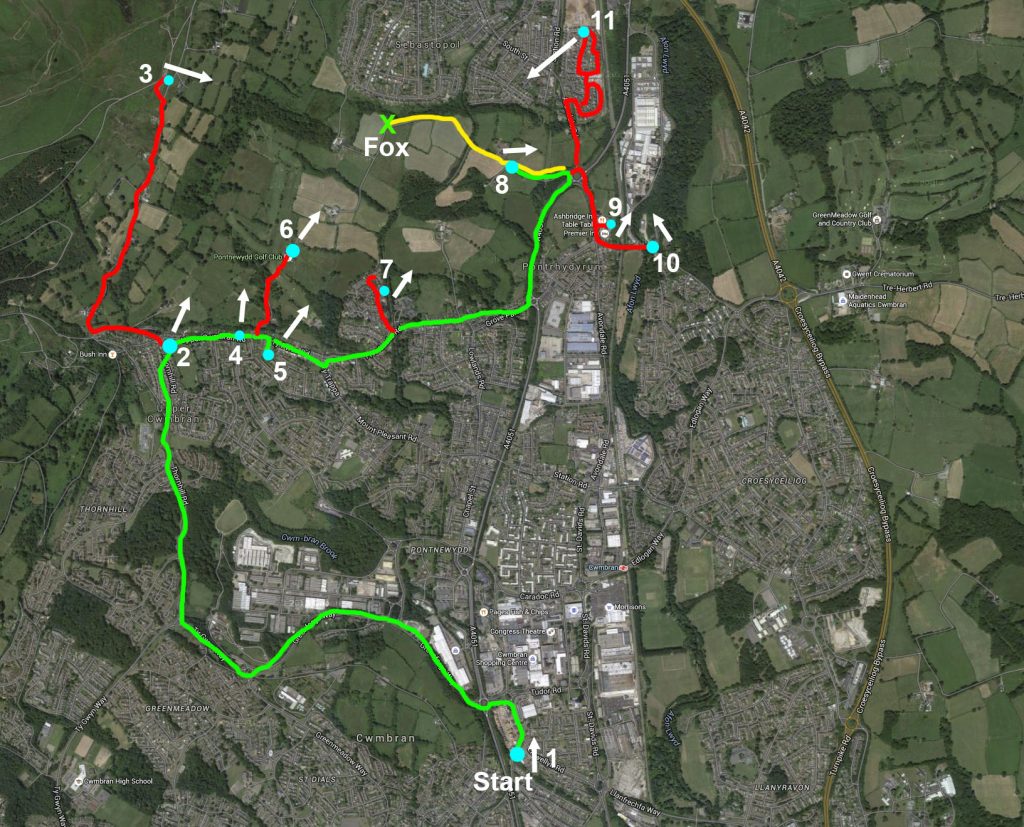 Point 1 – Starting position, this was a fairly good fix, although it was quite wide at this point. So we decided to head to some high ground to try and get another.
Point 2 – We got another good'ish fix here, although houses were probably having some effect. We decided to head up to even higher ground.
Point 3 – We passed Ken and Pete here, I guess before their exhaust fell off (excuses excuses) and headed all the way up to mountain air car park. 10 mins in this lane due to a tractor coming down the hill will lots of cars. We got a very good fix here for obvious reasons, and if we had looked hard enough could have probably seen the fox at position X.
Point 4 – this was a double check, as we didn't really want to go too far
Point 5 – another double check, but we decided to go to point 6 here, as we thought the fox might be playing golf !!
Point 6 – a good fix here, frustration starting to set in. We were in the golf club and having to toot our horn as we drove over the fairways….. rofl
Point 7 – this was another double check fix really, honest guv !
Point 8 – Now this is were things went BAD BAD BAD. Look how we got totally confused here. The fox was actually directly behind us, but we were in the shadow of its signal, behind a small rise. The signal was now bouncing off the old Rechem chimney and buildings. OH NO !!!!!
Point 9 – Another reflection from the chimney !!  In the pub car park no less.
Point 10 – …. and another… damn that chimney !!
Point 11 – Ok this was it, heading back on ourselves. We got lost in this housing estate for a while, a maze !!!
Point X – Ah ha, we found it, after a bit of coaxing from the fox, we made it, some 1hr 12mins or so after set off….. argghhhhhh
So we finally got there, in second place. John OAJ and Lee UNY were the first there, aided no doubt by Lee's heavy right foot and the open top where John could run the yagi whilst driving. That's my excuse anyway…. haha. John and Lee below can be seen in the DF winning vehicle. Good stuff chaps 🙂  At least you two will be setting up the fox next time, so everyone else can stand a chance… haha. Although saying that, John will probably run 0.1 watts, attached to a farmers fence 🙂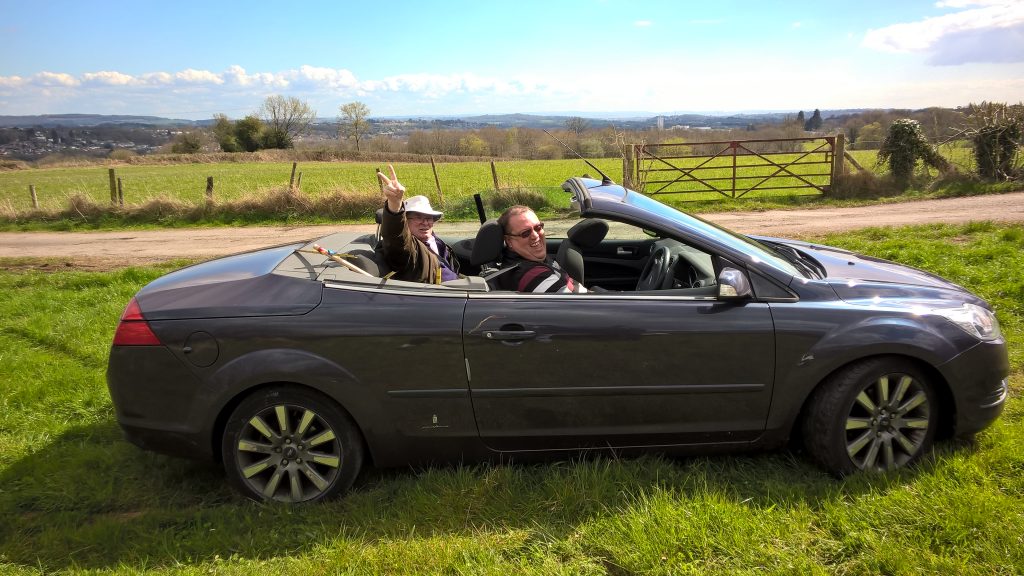 You can see me here, running in joy from the Defender, finally !!!!!!  What a reflection nightmare it turned out to be.
The final times for the remainder of the guys were quite close, Rich Hicks drove in next, but due to release time he was actually fourth.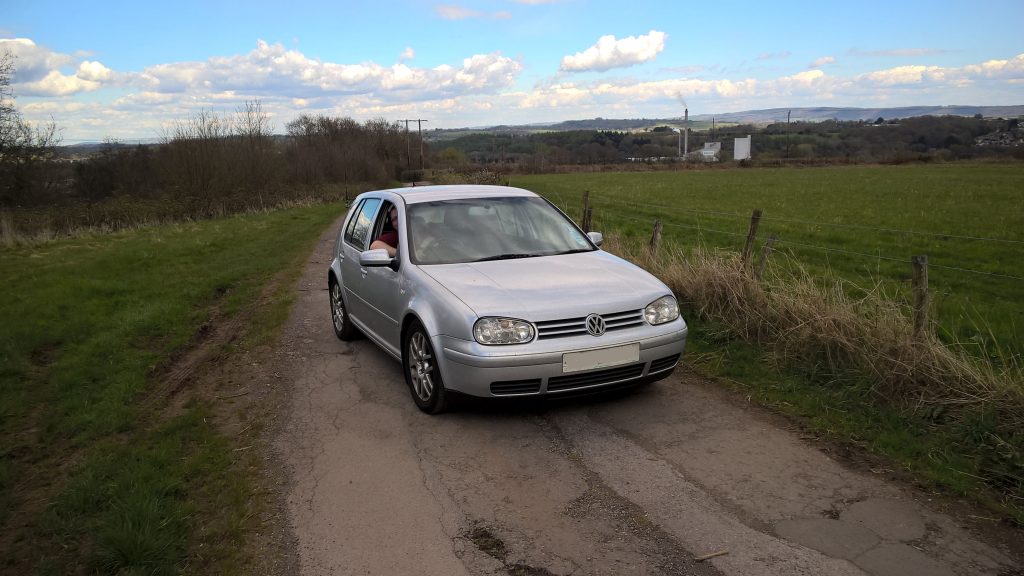 And everyone else came in together. Ken/Pete, followed by Gareth/Rhys and then Dave/Evan.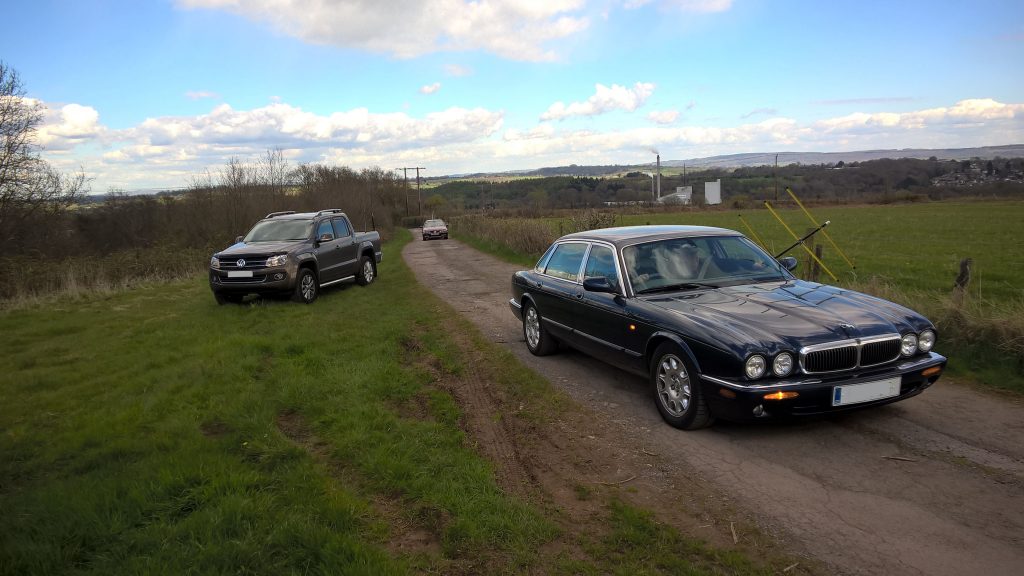 The area that Chris and Mark had found was a nice spot indeed, the reflections from the buildings and chimney showing how difficult DF'ing can be.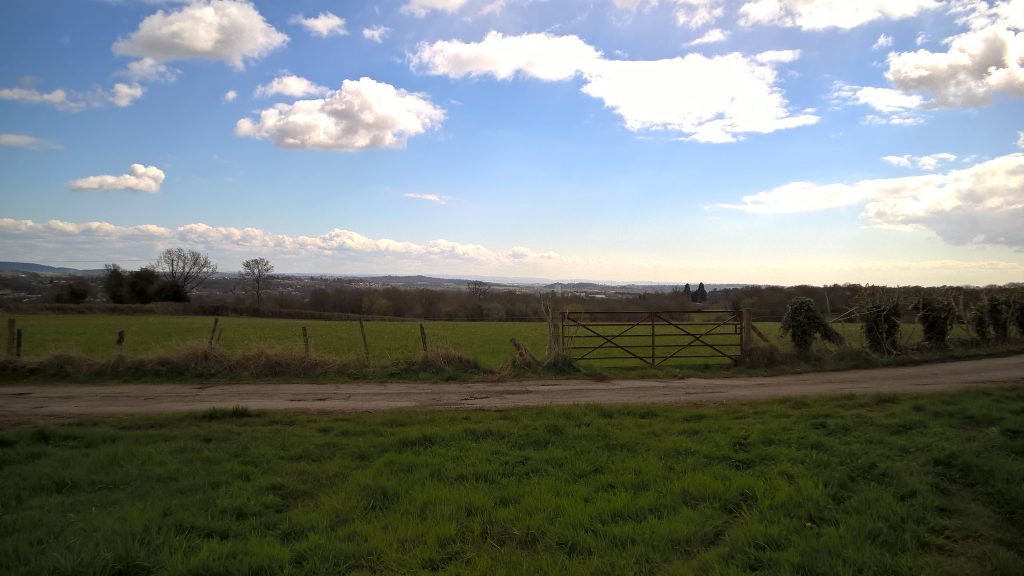 Chris looking at his watch thinking blimey, what is taking them so long…..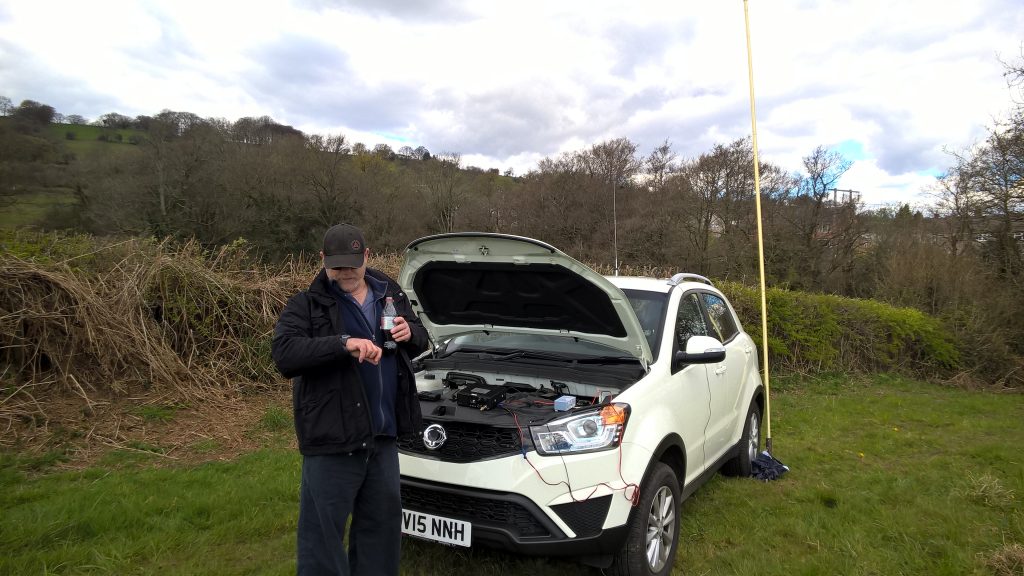 John recovering from his win… well done you two !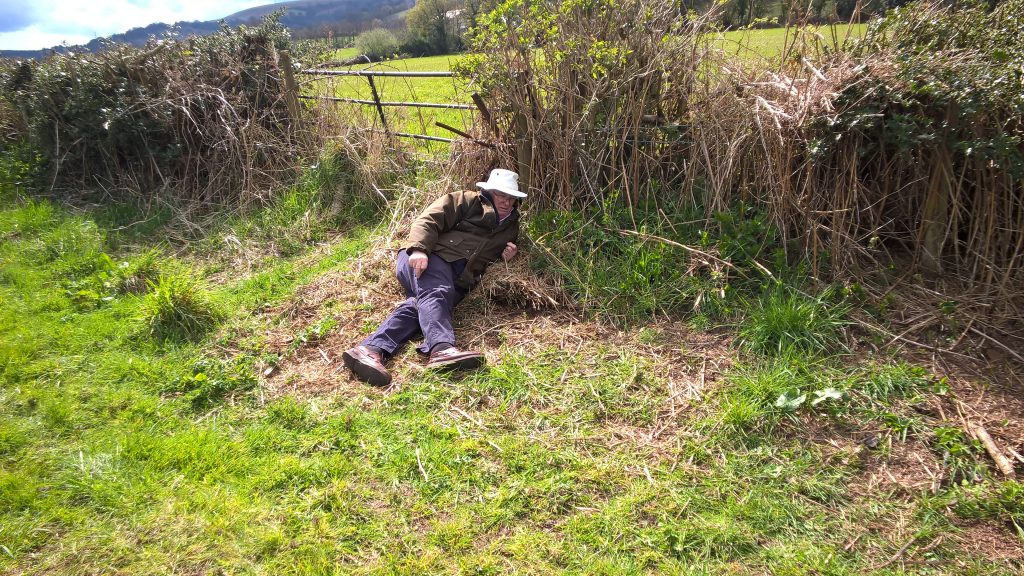 Thanks to all that attended and made it a fun afternoon. Most of us headed off to the local pub to laugh off our exploits and to try and work out where we had gone wrong.
The final results were in….

There will be a presentation at this weeks club night to the victors.
73 all, and thanks to my bro for putting up with my impatience 🙂