It has been a while since I set up a portable station specifically for a club net, but decided to head out last night for a welcome change.
I turned up around 7:30pm at the Catsash high point, at the top of Caerlicken Lane, and got set up in about 5 minutes or so. The Diamond SG7900 antenna on top of the painters pole (£15 ally painters pole from B&Q – 5m long), and some Ultraflex7 run through the side window and connected to the radio.
Stations started showing around 7:40pm, a small turn out.
Dave, GW7RQM was first up, 5/9 his signal, followed by Chris, 2W0OGY also a 5/9 and finally joined by Jim, MW6MUN also a 5/9.
We all had a natter until about 8:20pm when I headed off to see if I could contact any more stations. I made a couple of calls on 145.500 and also contacted some usual suspects.
GW0AVW (Terry) 5/9 – Caerphilly
GW0OGO (Steve) 5/9 – Magor
M6JJV (Steve) 5/3 – Berkley Gloucester
M6MQB (Mat) 5/8 – Glastonbury town
M6AIX (Darren) 5/9 – Weston-super-Mare
M6STL (Steve) 5/9 – Avonmouth
A great view from up on top, roughly 600ft ASL, Denny Island clearly visible.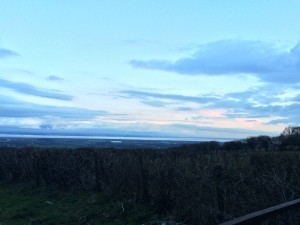 A nice couple of hours out of the house. Cheers for the contacts. 73