So, I decided to have a dabble on JT65 last night, had a listen to the bands and opted for 17m.
The frequency was quite busy but I found a spot where I could call some CQ's. 7X3WPL came back to me, but as you can see he failed to give me a report. In fact, he ended the contact with a 73 and then started calling CQ.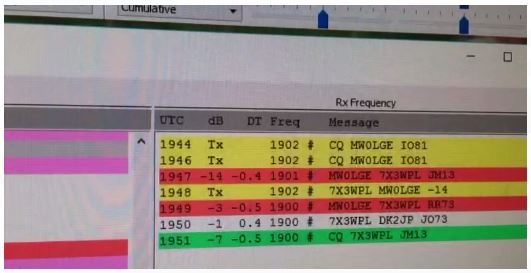 So this station did not give me a signal report (look at the times), and he then went about calling CQ. I double checked back through the call/band history and could not see his call sign. Unless there was some serious QSB or some sporadic propagation openings he was not on that frequency calling cq prior to me.
So, this morning, I checked QRZ, and unsurprisingly there was a QSL waiting for my approval from 7X3WPL.

Now, as I am only a year or so on the air with this callsign, I would have liked to have had that QSO confirmed and add Algeria to my country's worked, but no, I refuse to add something that has been so obviously made incomplete. Why bother even operating and trying to make contacts if you cant even be bothered to send a report ? Obviously it could be, and probably is, an operating mistake but to then call CQ as well ? As it happens according to QRZ he gave me a -14 report.
Is this a sign of things to come, with more and more automation, and the 59 73 mentality ? I read about the up and runs where the last you hear from a station is R-02.
Please for the love of god, if you are operating a slow as hell mode (5-6 mins per qso) then at least send a report and see the qso through to completion. I am slowly getting fed up of wasting my time.
73