Last year the Cwmbran and District Amateur Radio Society staged a fox hunt and a number of us built 3 element tape measure yagis using measurements provided by a fellow club member, Pete MW0RPB. This year I decided to rebuild mine, and rework the dimensions using a great yagi design program from John Drew – Yagi Calculator. I used jubilee/pipe clips, some plastic conduit, conduit saddle clamps and a bunch of screws. It should be noted that for these calculations the dimensions of the elements were 21mm wide and 0.5mm thick, with non metal boom.
Design frequency was 145.000 MHz the centre of the band.
Reflector length 1007.6mm tip to tip, solid, at 0mm boom position (the start position)
Driven length 972.7mm tip to tip, with a 10mm gap, at 414mm boom position
Director1 length 904.5mm tip to tip, solid, at 568.6mm boom position
Note: The driven is tip to tip measurement, this includes the 10mm gap at the centre. The boom positions should be marked on the boom from one end, starting at 0mm then 414mm and finally 568.6mm.
A hair pin match was made from some 2.5mm bare copper wire (from twin and earth mains). The dimensions for this 85mm long and 25mm wide. The paint/covering on the tape measure was scratched off/filed and tinned heavily.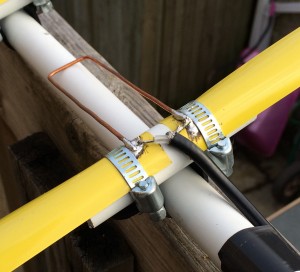 The coax feeder was cut to and odd half wave length (* velocity factor) of the design frequency, 0.66 being the VF for RG58. The number 5 being an odd number of half wavelengths long, you can pick any odd number for this to give you your length of coax. Have a read of this if you are interested in why this is done.
feeder length (meters) = ( (150 / 145.000) * 0.66 ) * 5
An RF choke was added at the end of the conduit using some of the feeder, so make sure you pick an odd wavelength long enough to include enough for the choke.
The results speak for themselves, what a cracking antenna, see the swr plot above (thanks George for the lend of the Sark-110). I had a QSO on 5w with a station 37 mile away from Magor, on the 'white horse hill'. The 3 ele giving 6.9dBi gain.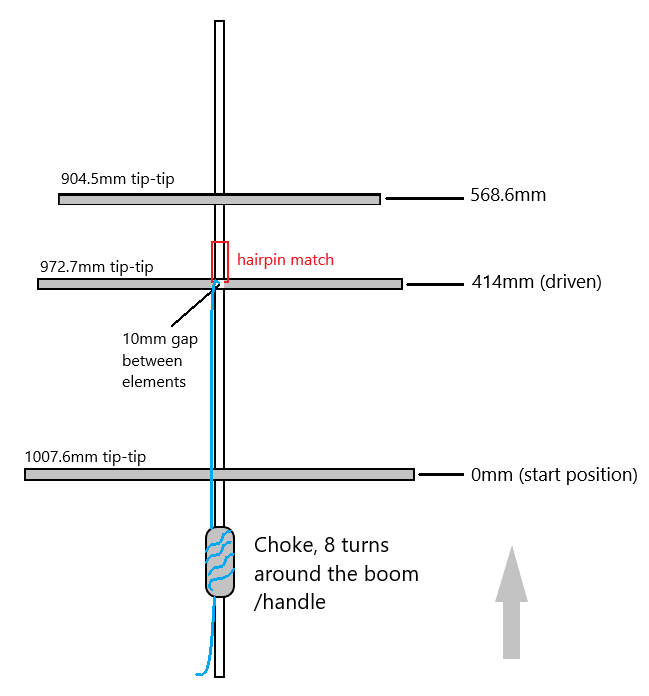 Have fun making yours !
73
Upgrades !
I decided to add another two directors to make a 5 element yagi. I found some 22mm alkathene that would slide over the conduite and allow me to extend the boom. The 5 ele giving 9.9dBi gain.
Director2 length 894.6mm tip to tip, solid, at 940.7mm boom position
Director3 length 885.5mm tip to tip, solid, at 1115.2mm boom position